A Little History…
Pierce Window & Door was founded by Scott Pierce's parents in the mid 1980's. His father had been a window and door craftsmen for a shop founded by Scott's grandfather in the 1950's and '60's. By the time Scott was in high school, his father had retired. But, customers who had purchased windows and doors 30 years prior were asking his father for replacements. Mr. Pierce couldn't turn his loyal customers away, so Pierce Window & Door began as a way to meet the needs of these very satisfied customers. Fresh from college, Scott joined the business in 1988.
Meet The Team
Scott Pierce is the owner and general manager at Pierce Window & Door. He began working at the local lumber yard in St. Clair, Missouri at an early age. Now a marathon runner and a Christian, he is dedicated to giving his customers the highest quality products possible.
Tim Hanneken runs the installation division and handles sales. He will eventually become general manager. Tim has a history in home improvement and graduated from St. Louis University with a degree in finance and economics.
Bill Garrison has been with the business since 2005. He is the computer guy and he also handles some sales. He is the account manager for one of Pierce's clients who has recurring needs. Bill excels in all of his tasks.
R.P. Duemler runs the woodshop and the paint shop. He had his own general construction business for many years before specializing in cabinets, trim, and woodworking of every kind. He has over 30 years of experience. Known for his mustache and his dry sense of humor, he provides invaluable expertise to the construction of doors and stairs. He has an almost intuitive approach to woodworking, and it shows in his work.
Jason Jenks is a part-time painter for Pierce Window & Door. He's meticulous in everything he does, whether it's painting or caring for his car. Ask him how long his car has had a dent in the door and you'll discover you're the only one smiling. Luckily, he's a good sport.
Ginny Klophaus is the bookkeeper for Pierce Window & Door. She has been working with the Pierces since the 1970's.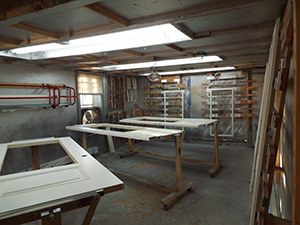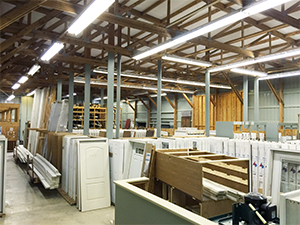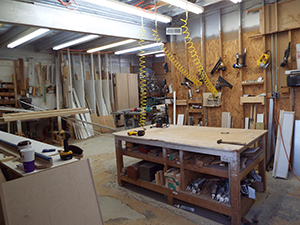 Each team member is vital to the operation of Pierce Window & Door. These individuals do these specific tasks all the time. The information and advice given to customers comes from an experience-based knowledge that can't be matched by any other business in the surrounding area. Come take a look at the large warehouse and showroom and the talent behind the product!